Together Melons Walmart eGift Card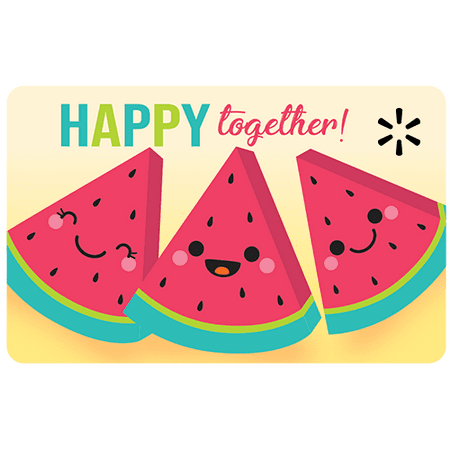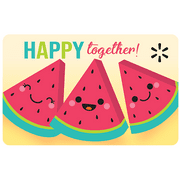 1 of 1
Together Melons Walmart eGift Card
About This Item
Convenient for you and fun for them, the Walmart Gift Card makes a great gift for anyone. Gift cards arrive immediately by email, or within 4 hours at most.
If someone claims you should pay them in Walmart gift cards, please report it at FTC Complaint Assistant. Read more at Gift Card Fraud Prevention. Easy to Order
Select the denomination or enter an amount, fill in the Recipient's information, and click Buy Now.
We will send you a confirmation email that will allow you to save the gift card to your Walmart account.
Easy to Use
Online, enter gift card number and PIN during checkout. The PIN provides secure online shopping.
Save your Gift Card as one of your payment options. Enter the information once, and it's saved to your account for convenient access when you make purchases.
Check Walmart Gift Card balance online.
More Information
Gift Cards may be redeemed at Walmart stores, Walmart.com, Sam's Club, and Samsclub.com by SAM's Club members.
No expiration date (subject to applicable law).
Not returnable or refundable for cash except in states where required by law.
By purchasing this Gift Card, you agree to the Gift Card Terms and Conditions.
Ask a question